EDIT December 2018 : Counter Strike Global Offensive is now Free To Play for all users of Steam, you Can pick up a copy here.
Counter Strike Online is the best online action game produced by Nexon. It is a first-person shooter game that has the license holder from Valve Software, the creators of the renowned Half-Life series.
It has various versions for connecting online, such as Stream, None stream, Garena and hamachi. In order to play the game online you would need to choose one of the versions and start playing it online.
Play Counter Strike Online For Free:
For using Counter Strike Stream version, you will need to download it first of all. Install it on your computer and follow the instruction given below:-
After downloading and installing the game, open it. Go to the upper right of the keyboard corner below the Esc button and press "~" to the main menu of the game. By pressing this button it will prepare the console window to perform actions you like. This window will also help in performing different tasks While Playing Counter Strike Online.
For example: It will connect your computer with the different gaming servers; it will search the suitable servers for you and get their details, it will also enable you to search for opponent's details and many more…
Please follow some of these instructions to get the best result. 'Connect' command must always be written with the IP address for your desired server to which you want to connect and play the game. For example you can write: ''Connect 100.111.111.111:1111''
Find a working game server; use this address to find http://www.game-monitor.com/search.php?game=cstrike . This website has all the working dedicated servers used for gaming. It will also let you enter different game rooms of your area.
Joining a Room In Counter Strike Online
For joining a room, please click on your Country from the drop down list and enter ''Search''. It will automatically connect you to all the rooms of your area. After going to this site, just under IP section, you will find different game servers that would be Active. Now just cut and paste the server id and put it in the Counter Strike Console and use the connect command.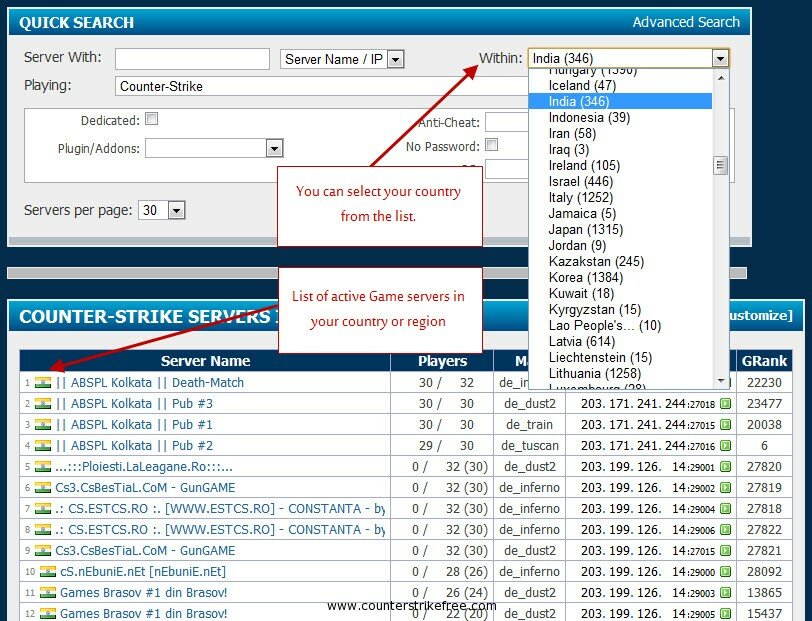 For example: ''Connect 100.111.111.111:12345''
The Procedure or Method I mentioned above will help you to Play Counter Strike Online for free. Enjoy the thrill and have fun!!!
Bonus: Play with Friends on TeamSpeak
Join up with your buddies and kick some behinds using TeamSpeak to communicate with your friends. TeamSpeak allows you to communicate more effectively with your team/friends and also allows you to mute the in game voice chat if there are people causing problems in-game.